Having the proper clothing out in the wild is something that is often overlooked. But, wearing the right clothing on your bushcraft adventures is important. You never know what you're going to face.
A good pair of bushcraft pants will help to keep you safe from the elements, and provide much needed storage for carrying essential gear and other resources.
I know it can be challenging finding the right pair of pants. With all the options out there. After all, you need to find pants that are not only durable, but also, weather resistant, comfortable and flexible
That's why I decided to review the best of the best bushcraft pants out there. To help you make the right decision.
I'll also be providing you with a complete buyers guide, so you'll know exactly what to look for when buying a good pair of bushcraft pants.
10 Best Bushcraft Pants Reviews
Here's a complete review of the 10 best pants for bushcraft on the market right now.
Best of the Best Bushcraft Pants: Fjallraven Men's Vidda Pro
The Fjallraven Vidda Pro is our top pick. Although, a bit pricy, they are high quality and well worth the price. They are very comfortable, stylish and weather resistant. These bushcraft pants are made from G1000 material (65% polyester and 35% cotton) and come with a wax treatment which makes them extremely durable.
The Vidda Pros come with 7 long and roomy pockets including a map pocket, axe pocket and inner safety pocket, making it a great option for carrying your bushcraft tools. The Fjallraven Vidda Pro is great for every day use, hiking, and of course your bushcraft adventures.
Pros
Weather resistant – Made from high quality G1000 waxed material, they are both wind and water resistant.
Extremely flexible, allows for maximum mobility
Lots of pockets – A total of 7 pockets. Pockets are long and roomy for holding gear
Quick Drying: Great for fishing and wet environments
Adjustable leg collars with hooks to hook to boot laces for secure fit. So socks are not exposed and protected from thorns and the elements
Reinforced Knees
Durable: These pants are made from a tough polyester/cotton blend.
Lifetime warranty – The manufacturers are so confident in the quality of the pants, that it comes with a lifetime warranty.
Cons:
No rear pockets
European Sizing: Comes in European sizes which may be confusing to American customers. For instance, I have a 34 inch waist which is a 50 in European sizes.
Expensive
Pro Tip: Avoid washing for as long as possible. Wipe down when dirty, as putting in washing machine will remove the wax coating
Click for Price and Customer Reviews
Runner Up: Tru-Spec 24-7 Tactical Pants
Tru-Spec 24-7 Tactical Pants are designed using durable polycotton ripstop fabric, and come with a water repellant coating. Making it super lightweight, versatile and a great choice for a variety of outdoor activities.
The Tru-Spec is multi-functional, with lots of pockets, key chain or carabiner loops, and a french fly inside zipper for added security. All of these features combined make these some of the best pants for bushcraft.
Pros :
Tough: Made from double stitched ripstop material and with teflon coating for stain resistance and durability.
Water Resistant: Durable Water Resistant treated
Lots of Pockets: Two roomy front pockets, two accessory or knife pockets , expandable back pockets, plus a utility pocket.
Quick Drying
Highly Flexible – These pants offer great mobility. Made from a a stretchy polyester/cotton blend, gusseted, and have articulated knees.
Cons :
Hot: These pants hold heat. Designed for cooler temperatures
Click for Price and Customer Reviews
Best Bushcraft Pants for the Price: Carhartt Ripstop Cargo Work Pants
Carhartt Ripstop Cargo pants are built tough at an affordable price. They are relaxed fit, have multiple utility pockets, with Cordura lined back and front pockets, as well as a double front opening. These things are light, breathable, but tough. Great for hiking and bushcraft.
Pros:
Affordable
Multiple Pockets: Lots of pockets including 2 large cargo pockets to hold gear.
Very Lightweight: 100% cotton which is both lightweight and breathable
Has a Hammer Loop that's great for carrying an ax or hatchet
Cotton abrasion resistance in thigh area
Comfortable: Made with gusseted crotch and is relaxed fit.
Cons:
Not Wind or Weather Resistant. Made from plain cotton, so doesn't provide good protection against the elements
Not very flexible: If you're doing anything like climbing these pants can be a hinderance
Click for Price and Customer Reviews
Best Bushcraft Pants for Hunting: Sitka Timberline Pants
Sitka Timberline Pants are durable, weather resistant, and offer a level of stealth. Made from a double reinforced ultra stretchy polyester/spandex blend, these bad boys offer both comfort and durability.
The knees and seat are constructed from a nylon waterproof material, a very useful feature, when you're hunting in the rain or snow. The knees also come with removable articulated knee pads, which offer that added layer of protection if you need to kneel on rocky or rough terrain.
With a camouflage design the Sitka offers you the stealth needed for hunting.
Pros:
Durable: Seat and knees are made from double reinforced 4-Way stretch nylon ripstop.
Comfortable: They are secure around the waist and aren't too snug.
Flexible: Stretchy Polyester/Cotton blend allows for a full range of motion and less friction of the material against your skin.
Built-In Suspenders: Suspenders are far better at holding up your pants than a regular belt.
Waterproof Seat and Knees
Cons:
Warm: Too warm for the summer months
Expensive
Click for Price & Customer Reviews
Best Water Resistant Bushcraft Pants: Propper Men's STL I Athletic Water Repellant Pant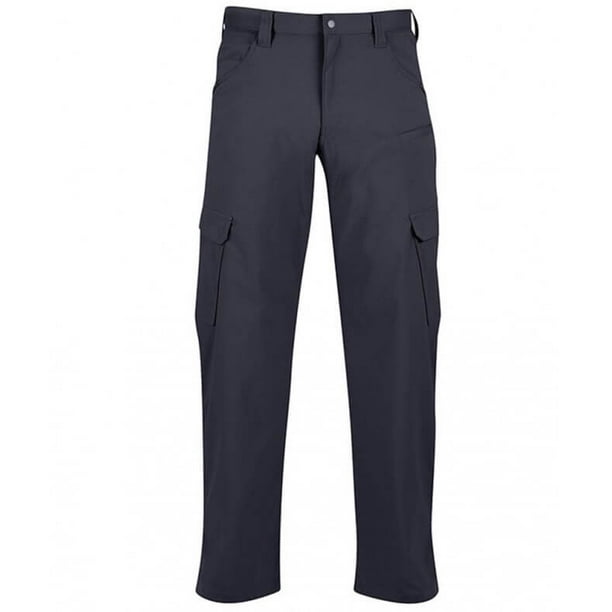 The Propper Men's STL is built to offer great range of motion and protection from the elements. With a gusseted crotch and spandex/nylon stretch fabric for excellent flexibility.
They are also very functional with angled cargo pockets that make your essentials easily accessible, hip pocket for mobile phones or other accessories and back pockets with zips for added storage.
Pros:
Water Resistant: Made from Durable Water Repellent (DWR) fabric
Great price
Pockets galore: These pants don't lack storage. They come with a total of 15 pockets.
Breathable: The spandex/nylon fabric keeps you cool in warm weather and also dries very quickly.
Lightweight: Weighs only 1 pound
Cons
Not Warm: Won't hold up to the cold. Designed for warmer weather
Sizing: May not fit true to size
Click for Price and Customer Reviews
Best Bushcraft Pants for Hot Weather: Outdoor Research Men's Ferrosi Pants
The Outdoor Research Men's Ferrosi Pants are made from a highly breathable 86% nylon/ 14% spandex fabric blend. This gives them the ability to keep you cool on hot days, while still protecting you from the sun's rays.
The material is also super stretchy for great mobility and comfort. Lastly, these pants come with a really "cool" elastic cord feature in each leg cuff. One quick pull and the pants roll up your legs, helping you to cool down quickly.
Pros
Breathable: Very light and airy fabric, perfect for hot weather.
Great Protection from the Sun: These pants come with a 50+ UPF rating
Water Resistant: Made with Durable Water Repellent (DWR) coating.
Excellent Mobility
Cons
Not wind resistant: Material is too thin to provide good protection from wind.
Not Very Durable: Fabric tears pretty easily.
Not Warm: Doesn't offer good protection for cold weather
Click for Price and Customer Reviews
Best Winter Bushcraft Pants: Filson Mackinaw Field Pant
The Mackinaw Field pants are made from "our warmest wool." Not my words, but Filson's. Now if Filson says this, there must be something to it!
Constructed of 100% Virgin Wool, the Mackinaw provides you with the warmth and toughness you need for the winter cold. These bushcraft pants also come with six roomy pockets to carry your gear.
Pros
Tough: Wool is durable, stands up to heavy brush, and also offers great resistance to fire.
Water Resistant: Wool naturally repels water
Very Warm: Wool will keep you warm even when wet.
Made in the USA: 100% Made in the USA
Cons
Expensive: Wool on a whole is pretty pricy
Heavy: Wool is heavy, so if you're going on long treks, it may not be the best option.
Click for Price and Customer Reviews
Best Durable Bushcraft Pants: Montane Super Terra Pants
The Montane Super Terra's are rugged outdoor pants that can be used for a variety of outdoor activities. Constructed from Montane's tough Granite material (93.5% nylon and 6.5% Spandex) the Montane STP is durable, and stretchy.
With six roomy pockets, there is no lack of storage for carrying your bushcraft gear and other essentials. Lastly, the Cordura reinforcements on the seat and knees provide great abrasion resistance.
Pros
Comfortable: Stretchy materials provides great range of motion and mobility.
Multiple pockets in variety of sizes that are easily accessible.
Integrated gaiter hook and cuff adjustment: Great for protecting your socks from brush.
Great Protection from the Sun: Rated at UPF 50+
Cons
Gaiter hook may sometimes catch your shoelaces
Removable belt is difficult to pull through the belt loops
Limited Sizes: Only sizes available are S to XXL
Not Very Breathable: Better for cold weather, even with leg vents
Click for Price and Customer Reviews
Best Bushcraft Pants for Outdoors: Helikon Tex Outdoor Tactical Pants
 Helikon-Tex Outdoor Tactical Pants (OTP) are the ideal pants for all of your outdoor adventures. With 12 pockets, these pants come with lots of storage options for your bushcraft and other outdoor essentials.
Constructed from ripstop material these pants are tough and durable. The articulated knees feature, make these Helikon Tex a great option to wear if you're going to be climbing up rocks or kneeling to light a fire.
Pros
Functional Pockets: Lots of pockets for storing gear.
Built tough: Built from riptstop material that prevents rips and tears.
Great Mobility: The fabric of the Helikon OTP is stretchy which offers a good range of motion and comfort.
Comfortable: Articulated knees, internal knee pad pockets and gusseted crotch add a touch of comfort.
Cons
Not Very Breathable: Made from a heavy fabric so not suited for hot conditions.
Snug Fit: The fit is very snug, which can be restrictive if you're used to a relax fit.
Click for Price and Customer Reviews
Best Women's Bushcraft Pants: Fjallraven Women's Nikka Trousers
The Fjallraven Women's Nikka Trousers are tough, weather resistant, and flexible. These trousers offer amazing versatility, they come pre-waxed with G-1000 treatment, that can be reapplied in different degrees of thickness, which gives them the ability to be worn throughout all four seasons.
Lastly, these bushcraft pants are designed with a gusseted crotch, pre- shaped knees and a stretch panel for excellent mobility and comfort.
Pros
Rugged: Made from a durable cotton and polyester blend (35%/65%). These trousers stand up to the elements and can be worn throughout the year.
Waxed: Nikkas come waxed with Fjallraven's G1000 wax treatment. So, they are water repellent , shed moisture easily and are quick drying. Wax can be applied in different degrees depending on the time of year.
Flexible: Stretch panel and gusseted crotch offer freedom of motion
Multiple Pockets: Comes with a total of 7 pockets. Easily carry your tools, phone, map and other essentials
Comfortable: Made with pre-shaped knees to stop bunching and also has a comfort fit waist.
Durable: Reinforced rear, knees, and cuffs enhance durability
Cons
Click for Price and Customer Reviews
What to Look for in a Pair of Bushcraft Pants
Durability
The best Bushcraft pants are built tough, able to withstand the harshest weather conditions, brush, rocks and stains. Look for pants that are resistant to wind and water, stain resistant and abrasion resistant. Pants made from strong fabrics like polycotton blends are best.
Flexibility
A pair of pants that offers a good range of motion is ideal for bushcraft. You don't want to wear pants that are going to restrict your movements. A pair of light pants with stretchy material, gusseted crotch and a relaxed fit are ideal for mobility.
Comfort
Strength and flexibility are important, but what good are they without comfort. To be fully prepared for spending long days out in the bush, you need to wear pants that have a comfortable fit.
A great pair of pants should fit well. You don't want any pants that fit too snugly or are too long. They should feel comfortable around your legs and be firm around the waist.
Storage Capacity
Out in the wild storage is very essential. Look for trousers that have lots of deep, roomy pockets to carry your gear and other necessities.
Resistance to Weather
Protection from the elements is crucial. The pants you choose to wear for your bushcraft adventure should be able to stand up to the climate that you plan to explore. For sunny warm climates, ensure that the pants you choose are cool and protect you from the sun's harsh rays.
If it's cold and windy, then warm and wind resistant pants are what you require. Likewise if you're heading into a wet and rainy environment, a great pair of water resistant/waterproof bushcraft pants would be a good fit.
Final Words
So, there you have it, these are the best bushcraft pants on the market today. There's something here for every budget. Our top pick is the Fjallraven Vidda Pros, for a variety of reasons. So, if you can afford it, go for this option. But, the others are great options too.