Finding the best neck knife is important, if you're in the market for one. Especially when it has to do with something as important as your safety and wellbeing. But, with so many options out there, it can be difficult choosing the one to suit your specific needs.
The reality is that not all neck knives are created equal. There are some pretty poorly built knives out there. That's why I created this buyer's guide. To provide you with the information you need to be able to find the best neck knives easily.
I looked at all of the options and assessed them on their ease of use, price, portability and durability. In the end, these 10 knives came out on top.
10 Best Neck Knives on The Market Today
Best Self-Defense Neck Knife: SOG Snarl
Designed by renowned knife maker, Jason Brous, the SOG Snarl is sleek and functional. The all in one design features a handle and blade made from one solid piece of tough 9Cr18Mov stainless steel. A design feature that makes the knife virtually indestructible.
The ergonomic design of the finger rings, as well as the jimping on the backbone, allow you to have a very firm grasp and hold the knife in a variety of grips. Giving you the ability to thrust the knife easily and maximize the use of the 2.3 inch full tang blade.
These features coupled with the reinforced point make it ideal for a tactical or self defense situation.
The SOG Snarl weighs only 0.9 ounces with an overall length of only 4.3 inches, making it easy to carry and conceal. It comes with a compact reinforced nylon sheath and metal chain so you can comfortably wear it around your neck and easily deploy it.
Pros
Very compact: Weighs only 1.9 ounces and measures only 4.3 inches in length. So, it's easy to carry and also can be used for everyday carry.
Easy to Deploy
Form fitting sheath: The hard molded nylon sheath fits the knife perfectly, so you can wear it confidently around your neck without worrying about it falling out. It also makes it easy to conceal.
Cons
Metal chain that comes with knife isn't the best quality
Best Budget Neck Knife Self-Defense: Ka-Bar TDI Law Enforcement LDK (Last Ditch Knife)
The Ka Bar TDI Law Enforcement Knife was built specifically for law enforcement and military. As the name suggests it was designed for last ditch situations, where a law enforcement officer may not have access to a gun or other weapon.
Unlike most fighting knives, that are long and sharp, designed with only fighting in mind. The Ka Bar TDI is the polar opposite. Measuring only 5.6 inches long with a 2.6 inch stainless steel blade, it's designed to be easily concealed. With the intention of catching an attacker by surprise.
The compact sheath, which is just big enough to cover the blade, adds to it's ability to be concealed. Constructed from tough AUS-8A steel with a full tang blade and drop point, the Ka Bar TDI is strong and durable.
The curved angle handle with pebbled texture enables a good grip and is designed to be ready to strike. Making it a great option for self defense.
Pros
Full Sized Handle: Even though it is compact, it comes with a full sized handle making it easy to grip and use.
Angled Handle Design: The angled design of the handle allows for easy thrusting of the knife.
AUS 8A Stainless steel blade is corrosion resistant
Cons
The sheath is not the best quality.
Best Premium Neck Knife for Self-Defense: Spyderco ARK
The Spyderco Ark was designed by combat veteran John Shirley to protect people from being raped. While on deployment in Afghanistan, John Shirley realized that US personnel were left vulnerable and being taken advantage of when they had to go into showers and bathrooms.
So, he decided he had to create a knife to solve this problem. Thus the ARK, which stands for "Always Ready Knife" was born.
It got this moniker, because it truly can be taken anywhere. The ARK comes with a breakaway chain so it can be worn around the neck. Weighing only 1.8 ounces, with an overall length of 5 inches. It's compact and so lightweight, you wouldn't even notice that you're wearing it.
The 2.5 inch blade is made from tough corrosion resistant H1 steel, so it can be used anywhere, even under water.
This neck knife was designed with ease of use in mind. The fiber glass reinforced handle is contoured with a thumb hole on the back for maximum grip and control.
Pros:
Durable and strong: Made from tough H1 steel and strong fiber glass reinforced handle
Corrosion Resistant: H1 steel prevents rust
Ergonomic design: Contoured and textured handle allows for firm grip and ease of use.
Can be taken anywhere
Cons:
H1 Steel material scratches very easily.
Sheath is weightier than knife
Best Survival Neck Knife: Morakniv Eldris
When it comes to neck knives for survival, the Morakniv Eldris is top of the list. It's budget friendly, and lightweight, with a total weight of only 2.8 ozs with a 2.2 inch blade length.
The Eldris comes with a "mini survival kit", with ferro rod (fire starter) and paracord. Plus, it's steel blade is unpolished with sharp spine corners, making it perfect for using with a ferro rod.
This neck knife was made with comfort in mind. The handle is made from an easy to grip anti slip rubberized material. Plus, its sheath has a secondary lock that can be activated with the push of a button to keep the knife safely in place around your neck.
Made from Sandvik 12C27 stainless steel, the blade is easy to sharpen and corrosion resistant.
Pros
High quality build
Affordable
Lightweight: With a total weight of only 2.8 ounces
Grippy handle: Anti-slip rubberized handle
Secure Sheath with secondary lock
Cons
Best Budget Neck Knife for Survival: Survival Frog Tactical Fixed Blade Tanto Point Neck Knife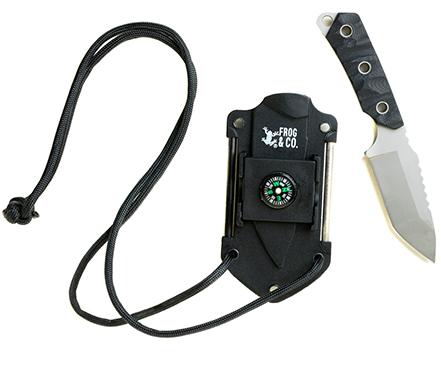 The Survival Frog Tactical Fixed Blade Tanto Neck Knife was designed with survival in mind. It comes with a nylon sheath with a built in compass for navigation, knife sharpener and signal mirror to signal for rescue in an emergency situation.
With all these cool survival gadgets, this survival neck knife is surprisingly easy to carry and conceal. The overall length of the knife is only 5.5 inches, with a blade length of 2.9 inches.
The G10 handle was designed to ensure a firm grip, even in the wettest of conditions.
Pros
Features: Comes with several features for survival
Affordable: Very budget friendly price
Cons
Compass and paracord are not of the highest quality
Best Premium Neck Knife for Survival: ESEE Knives Izula II Fixed Blade
A list of the best neck knives would be incomplete without mentioning an ESEE neck knife. ESEE is known for making some of the best knives for Survival. The ESEE Izula II is no exception.
Made from the quality 1095 high carbon steel that ESEE is known for. With a thick 1.56 inch drop point blade It's great for survival tasks. It can take a beating without chipping or breaking and is easy to sharpen.
Its lightweight injection molded plastic sheath fits the knife perfectly and is very tough and durable. In fact, the manufacturers are so confident in the durability of this knife, that it comes with a lifetime warranty
The regular Izula II comes skeletonized with only the bare 1095 steel blade. But, Micarta handle scales are sold separately for added comfort and grip.
For the complete survival experience, the Izula II is also available with a survival kit that comes with scales, paracord, ferro rod, two split rings and an emergency whistle
Pros
Compact design slim profile
Functional
Comes with lifetime warranty
Cons
Not stainless steel and may rust
The canvas material of the handle gets dirty easily
Best EDC Neck Knife : CRKT Minimalist Bowie Blade Neck Knife
Made by renowned knife maker, Allan Folts, the CRKT Minimalist is functional, pretty to look at and discrete. This CRKT neck knife comes in at just over 5 inches long, with a 2.125 inch blade, and weight of only 1.6 ounces.
It can be easily worn under your shirt without being seen or tucked away in your pocket. And, for a small knife, it's very comfortable to hold. The finger grooves make the knife fit perfectly in your hand. Plus, it comes with an attached cord fob that allows for a firm grip and great control
The CRKT blade is made from 5Cr13MoV steel, which is not the best quality. But for a budget EDC knife that gets the job done, this isn't a major issue. It's forest green linen handle gives it an attractive look and feel.
The CRKT Minimalist comes with a Zytel hard plastic sheath that locks the blade in securely and comes with 6 eyelets that can be used for variety of attachment methods.
Pros
Affordable
Comfortable: The finger grooves in the handle make the knife a joy to use
Easily concealed
Ergonomically Designed
Cons
Steel is not the best quality
Best Budget Neck Knife for EDC: Sheffield 12152 Bolo
The Sheffield 12152 Bolo is a 5.4 inch fixed blade knife that's very budget friendly. While the materials may not be as good as some of the premium knives in this list, this knife is well built and a consumer favorite. Made with a drop point full tang fixed blade design, the Bolo is built to last.
It has a sleek design with a 2.15 inch blade made from 420 stainless steel and a 3.25 inch black nylon fiberglass handle. Ergonomically designed with deep finger grooves, the Bolo offers excellent grip and comfort. The textured handle enables good control and grip even in wet conditions.
The Sheffield Bolo comes with a plastic injection molded sheath that hangs from a metal lanyard.
Pros
Affordable: The Sheffield Bolo is the most budget friendly knife on this list.
Durable: Made from 420 Stainless steel with a drop point full tang blade. The knife is corrosion resistant and built tough.
Comfortable: Even though it's a small knife, the grooved handled fits well even in larger hands.
Cons
Materials aren't the best quality
Best Premium Neck Knife for EDC: Spyderco Dog Tag
The Spyderco Dog Tag is the only folding knife on the list. It made the list because of how discrete and compact it is. When folded away it can be worn just like a dog tag, as the name suggests. It weighs only 0.8 ounces and lays flat against your chest, so you can easily forget that you're even wearing the knife.
This neck knife is super compact with a 1.22 inch titanium blade and measuring only 2 inches when folded.
For it's size it's very functional, it opens easily, has a great grip and a sharp blade. Although, it does have some challenges with larger cutting tasks.
I wouldn't recommend the Dog Tag for your main EDC knife, but it's perfect for those scenarios where you need a knife, but also need to be discrete.
Pros
Very discrete: Compact and easily concealed. Only 2 inches when folded
Lightweight: Weighs only 0.8 ounces
Cons
Doesn't come with a chain
Best Bushcraft Neck Knife: Ka-Bar BK11 Becker Necker Neck Knife
The Becker Necker is one of the best neck knives ever made. Constructed from super tough 1095 Cro-Van carbon steel and powder coated for corrosion resistance. This drop point fixed blade knife is both durable and easy to sharpen.
With a total length of 6.75 inches, blade length of 3.25 inches and weight of only 2.5 ounces. It is compact and fits around your neck or into your bushcraft pants easily.
The black plastic glass filled nylon Kydex sheath is also high quality and firmly holds the knife in place when you're on the move.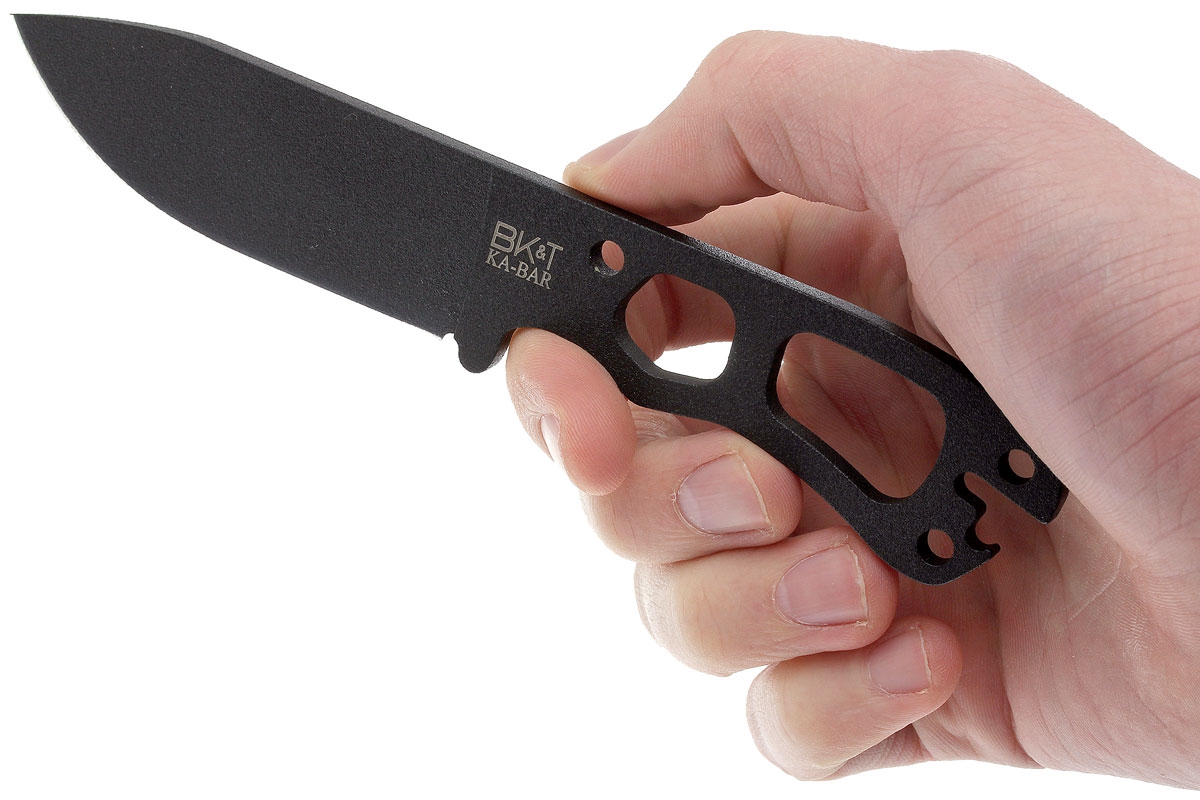 This neck knife is multi-functional and comes with a bottle opener/wire breaker and 550 paracord. Whether you're cutting branches, batoning or skinning game, the Becker Necker will get the job done.
Pros
Tough: Made from one piece of really tough corrosion resistant 1095 carbon steel with a durable glass filled nylon sheath.
Contoured handle
Keeps a good edge
Cons
Larger than most neck knives
What to Look for in A Good Neck Knife
With such a huge selection of neck knives to choose from, and so many of them being of poor quality, buying a neck knife can be a daunting experience. But, there are ways you can filter out the junk and get a high quality product.
When purchasing a neck knife here are the important points you need to consider.
Purpose
What will you be using your neck knife for? Your choices will be different depending on what you plan to use it for. A good self-defense knife may not be a good survival knife. Choose neck knives that have the characteristics that are suited to your specific needs.
Weight
Since you'll be carrying the knife around your neck, the weight is an important factor to consider. Choose a neck knife that is lightweight (a few ounces) and compact. You don't want to carry around a knife that's going to slow you down and is hard to deploy.
Material
Most neck knives come in steel blades. But there are different types of steel, with varying qualities. Depending on what you plan to use the neck knife for, you should look for qualities such as corrosion resistance, hardness, how easy it is to sharpen. As well as durability.
Concealabilty
If you plan to use your neck knife for self defense or EDC, then you should consider how concealable the knife is. You want to be able to catch a would be attacker by surprise. So discretion is very important.
Look for neck knives with a slim profile that aren't visible through clothing.
Ease of Use
Another important factor to consider is the ease of use. Is the knife easy to be deployed? Does it have a good grip? Is it ergonomically designed, so that it fits comfortably in your hand?
The Sheath
The sheath of the neck knife should hold it securely, but at the same time allow it to be easily released. A glass filled nylon sheath is the best option, as they are built to last.
Price
How much money you want to spend is one of the most important considerations. Are you looking for a budget friendly option? Or are you looking for one of the best neck knives that money can buy?
The Handle
The handle of the knife should allow for a firm grip and be comfortable to hold and wield.
Related Questions
What is the Purpose of a Neck Knife?
Neck knives can be used to do pretty much the same things other knives can do. But, what makes neck knives different, is their accessibility and practicality. They are easy to reach and deploy in any form of physical activity. Neck knives are also very compact making them easy to conceal, which is excellent for EDC and self-defense.
Is it Legal To Carry a Neck Knife?
The legality of a neck knife depends on your particular location and the specifications of the knife. The laws for neck knives differ from state to state and even city to city. Before buying a neck knife, make sure that you check your state knife laws.
Final Words
There are so many advantages to carrying a neck knife. Neck knives are easy to conceal, lightweight, and versatile. Whether you need a knife for self-defense, survival, or EDC, there are great options out there. The list above provides some of the best neck knives on the market. Whether you're looking for a budget or premium option. You'll find one to satisfy your needs.