Are you thinking about getting a portable solar charger? Wondering if the 4Patriots Patriot Power Cell is really as good as it is hyped up to be? Choosing the right solar charger can be challenging with all the options out there. Especially if you're not sure what to look for.
I know exactly how this feels. When I was on the hunt for a good solar charger, there wasn't any reliable information out there. That's why I decided that I had to put out my own no holes barred Patriot Power Cell review.
I've owned a Patriot Power Cell for over a year now, so I can tell you a thing or two about it. In this post I will be providing you with my personal unbiased opinion.
So, if you want an honest straightforward review from someone who actually owns the product, then you should read on. I will be providing you with info on the unit's features, pricing, pros and cons and even information on the company that sells it.
Why You Should Get a Solar Charger
Every prepper and survivalist should have a backup plan for powering their communication devices, during SHTF scenarios. This is where solar chargers shine. They give you the ability to power up your cell phones and other small devices, when you need it most.
Whether it be during a natural or man made disaster, power outages or during outdoor activities. Like camping, hunting or hiking. These portable solar power banks are able to store power and quickly recharge your devices, so that you can communicate with family and loved ones during any emergency.
The beauty of these solar chargers is that they don't depend on the grid to provide power. As long as the sun is out, you have an endless supply of energy.
Is Patriot Power Cell Legit?
Now, I've been seeing some Patriot Power Cell reviews out there, that are painting a negative picture. So, let me start off by saying that the Patriot Power Cell is 100% legitimate.
The folks at 4Patriots are some of the most honest and caring people I have ever had the pleasure of dealing with. Plus they are a 100% all American company that donates to veterans. So they definitely get my seal of approval.
When I first ordered my power cell, it arrived a few days late. I called up their customer service team to get some information on the status. The young lady that answered was courteous, and super helpful. Not only did she give me the tracking information, and give me a genuine apology, but she also gave me a $10.00 refund.
Now if that isn't legit, I don't know what is!
Features of the Patriot Power Cell
Now it's time for the fun part. Let's get into what the Patriot Power Cell can do? Here is a breakdown of the features of the unit.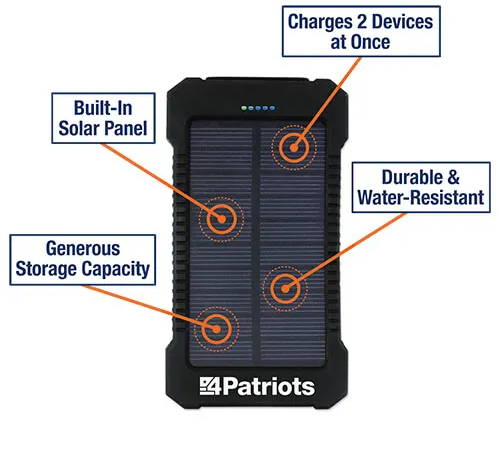 Powerful: The Patriot Power Cell has a 8000 mAh battery capacity. This bad boy is surprisingly powerful for a handheld device. It charges my cellphone twice, with power to spare.
Two USB Ports: The unit comes with two USB ports, so you can charge two devices at once. It works out great for me, when I want to charge my Kindle and cell phone at the same time. Works great with any small portable devices.
Rugged and Durable: Patriot Power Cells can take a beating. I've dropped mine so many times, I've lost count lol. But, it keeps on going. A buddy of mine ran his over with his truck. It got cracked up pretty bad, but it still charges his phone.
Dual Charging Options: Not only can the 4 Patriot Power Cell be charged through its built in solar cell, but it can also be charged via a wall outlet or any other USB power source. You can even charge it by plugging it into the USB port of your laptop.
Water Resistant: No need to worry about if it starts to rain while you're out with the power cell. It's has a durable rubber coating, and is water resistant, so a little rain won't stop it.
Built in Flashlight: The Power Cell also has the added benefit of a bright built in LED flashlight. This works great when I'm out camping or hunting or during power outages. Plus it also doubles as a SOS Flasher to signal for help if needs be.
Patriot Power Cell Specs
Battery Capacity: 8000 mAh
Power Output: DC5V / 1A, DC5V / 2.1A
Input: DC5V / 1.6A
Solar Cell: 1.5 watt
Battery Type: Lithium-Polymer
Shelf Life: 500 Life Cycles (around 5 years)
What's Included in the Patriot Power Cell Package
The Patriot Power Cell Package comes with the following:
Carabiner
Charging Cord for Charging the Power Cell
User Guide
Patriot Power Cell Pros and Cons
Now nothing is 100% perfect, this solar power bank is no different. Just like with other devices, there are pros and cons. So, let me get into the positives and negatives of the Patriot Power Cell.
Pros
Lightweight and Portable: Patriot Power Cells are easy to carry and compact. Weighing in at only a little over 1/2 pound and able to fit in your pocket. You can take them just about anywhere with you. Attach it to your backpack and it charges while you walk.
Charges Cell Phones Quickly: The power cell works great as a charger. It has a rapid charge feature and charges your cellphone way faster than a regular charger.
365 Day 100% Money Back Guarantee: All Patriot Power Cells come with a 365 day 100% money back guarantee. If for any reason you're not satisfied, you can return them, no questions ask for a full refund.
Amazing Customer Service: I spoke about this earlier, but had to mention this again. The kind of customer service that 4Patriots offers is truly hard to find. It reminds me of Mom and Pop stores when I was growing up. Which is a major plus in my book.
Affordable Price: Getting one of these solar powered chargers won't break the bank. They are reasonably priced and come in single units or 4-packs. Plus, you save 20% and get free shipping with the 4-packs.
Cons
Solar Charging is Slow: One of the main drawbacks is the time that it takes to charge via the sun. Solar charging takes up to 40 hours when the unit is completely dead. But, what I found out is that most solar chargers take around the same time.
Instructions Can Be Confusing: If you're using the unit for the first time, it can be confusing. When I first got it, I thought that I should use the charging cord that comes with the unit to charge my phone. But, it actually should be used to charge the Patriot Power Cell. ( I found out later how to actually use it and it's pretty easy once you get the hang of it. I included instructions below)
Charging Cord is Too Short: This is probably the biggest con for me. The charging cord that comes with the Power Cell is around a foot long, so it doesn't give you much lee way. The Power Cell has to be right next to the wall outlet to charge.
Final Verdict on the Patriot Power Cell
I've been using this battery pack since December 2019 and it still keeps on ticking. Although it takes a while to charge by solar. I really don't even notice it. When I'm not using the Power Cell, I just leave it in my window sill and it keeps a good charge.
The 4Patriots team offer some of the best customer service I've ever experienced. Plus they have a 365 day warranty, that's practically unheard of.
The unit is also pretty reasonably priced and the more you purchase the better the deal. The instructions can be a bit tricky, but 4Patriots provide some really helpful videos that guide you right through the process.
All in all, the Patriot Power Cell is a great product that I recommend.
Other Solar Products By 4Patriots
Now, the Patriot Power Cell is a great option if you're just looking to charge small devices like a cell phone or tablet. But if you want back up power for your larger devices, like your CPAP, fridge, laptop and other important equipment. Then, you need to check out these other solar powered options
4Patriots offer a variety of options to suit different needs. They offer solar power generators with battery capacities ranging from 10000 mAh all the way up to 1800 watts. I'll go over the options from the smallest output capability to the largest.
The Cub Go is the next level up from the Patriot Power Cell, but offers way more functionality. This unit is actually the smallest portable generator to come with a wall outlet.
So you can plug in your laptop or , blender, or even a television. It also comes with a 20 watt solar panel that enables it to be charged much quicker than the power cell.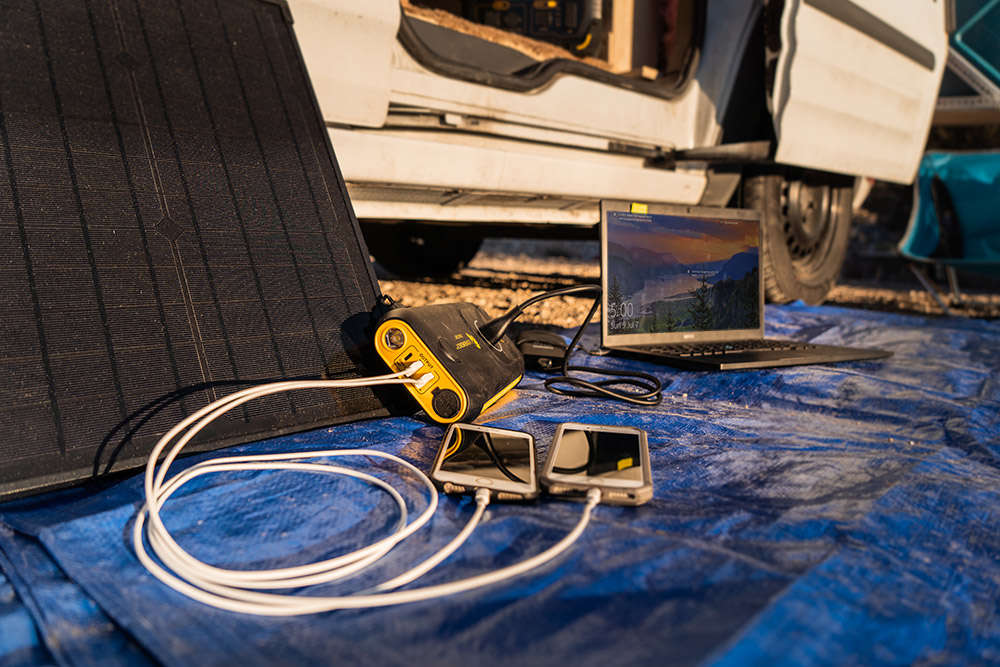 Features:
Compact and Lightweight: Weighs only 3 lbs and easily fits in most purses, backpacks and can easily be carried by hand.
Powerful: It has a 150 watt inverter, so it has an output rating of 150 watts. Powerful enough to run ham radios, GPS devices, walkie talkies and enough power to watch a whole movie on your television.
Multiple Outlets: The Cub Go has 3 USB ports: Two regular type A USB ports plus a Type C USB port for newer devices. It also comes with a full sized wall outlet. You can charge your cell phone, and tablet while surfing the net on your laptop.
Dual Charging: Can be charged using the included a/c plug or solar panel.
The Patriot Power Sidekick is 4Patriots mid range solar powered generator. It can handle up to 300 watts of peak power and has a continuous output of 110 watts. That's a lot of power for a device that weighs only 8 lbs. It's really easy to use too, with a easy to read display and powers up with the touch of a button.
It's a great option for people who love camping and outdoors but want to have some modern conveniences.
Features:
Multiple Outlets: The Sidekick comes with two wall outlets, three USB Ports (including a type-C), two 12 volt DC sockets and an automobile cigarette socket.
Dual Charging: Can be charged with included AC cord or four panel 40 watt solar panel.
Compact: Can be easily carried in your hand. Weighs less than a gallon of milk.
Powerful: Charge your cellphone, power LED lights, power up your laptop, run your shop tools. It can even run a C-PAP machine. All this for a very affordable price.
The Patriot Power Generator 1800 is 4Patriots flagship solar generator. It was originally introduced as the Patriot Power Generator 1500 back in 2015. But, was recently upgraded to the 1800, which is 52% more peak power and 28% more output capacity than it's older counterpart.
If you're looking for a high quality solar power generator. Then the Patriot Generator is a no brainer. It has a 3048 watt peak output, can hold a charge for up to a year, and can power important appliances like your freezer, fridge or space heater.
Features:
Safe for Use Indoors: Unlike regular generators that are noisy can give off dangerous carbon monoxide. The Patriot Power Generator 1800 is barely audible and fume free. So it's safe to keep in your house.
Easy to set up: Doesn't require any technicians. You simply unpack, power it up and plug in your appliance or critical device.
Ability to Daisy Chain Solar Panels: The unit comes with one solar panel, but can accommodate up to 4 solar panels to minimize charge time.
Comes with a lot of extras: The Patriot Power Generator comes with lots of extras:
Bonuses
Solar Air Lantern
Blackout Survival Library
Now, this isn't a solar generator, but it's a product that's definitely worth mentioning. With all that's going on with COVID-19 in the world. This device is a battery pack that also disinfects and kills viruses and bacteria using the power of UV-C light.
We all know that being able to kill viruses can mean the difference between life and death. So, this is a great device to have. It can also charge your phone, comes with a storage compartment and has a 6000 mAh capacity.
Recommended Reading: 30 Cool Survival Gadgets You Need to Survive Any Emergency
What to Look for In A Solar Charger (Buyer's Guide)
If you're not someone who is technically inclined, buying a solar charger can be very confusing. With all the technical jargon that's used by the manufacturers of these products. You may have to get out a dictionary or get a technician to decipher it for you lol.
But on a serious note, I've been there and I know how difficult it can be looking at all the numbers and not understanding what they mean. When all you really need to know is if the unit will suit your needs.
So, let's go over some important factors that you need to consider when purchasing a solar power bank.
Compatibility
First and foremost, you need to know if the unit is compatible with your device(s). All solar battery packs are not created the same. Some units can only charge devices with type A USB ports. While others can charge both type A and the newer type C USB devices.
So, you need to confirm what USB port your device has and also confirm with the vendor if your unit is compatible.
This article can help you determine what USB type your device is.
Weather Conditions in Your Area
Are the weather conditions in your area suitable for solar charging. Do you have a lot of sun? Or is your area rainy and cloudy all the time. Although most solar power banks can be charged by both USB power sources and solar, this is a question you need to ask yourself.
Battery Capacity
The battery capacity is another important factor you need to consider. The larger the capacity, the more power that can be stored and the more power you'll have available to charge your device. The average size of a cell phone battery typically ranges between 2500 to 4000 mAh. So a solar charger with a 8000 mAh storage capacity can give you around 2 full charges.
Power Output
The power output of the battery needs to be powerful enough to power your device. This output is measured in volts and should be equivalent to the input requirement of the battery in your device.
Typically, smaller devices that can be charged with a USB charging cable require 5 volts.
Check the specs to see if the output matches your input. If it doesn't it may end up draining power from your battery instead of charging it.
To know the input requirements of your device, check the user manual or check the voltage rating marked as "DC output" on your wall outlet charger.
Weight
Chances are, if you're going to purchase a solar charger, you're going to use it outdoors. You don't want to be lugging around a super heavy device. So, check the weight of the device. Ensure that it's portable and lightweight.
Patriot Power Cell Instructions
How Do You Charge a Patriot Power Cell?
There are two ways that the Patriot Power Cell can be charged. To charge the unit via a USB power source, follow the instructions below. The first charge should always be done via a USB power source to activate the unit.
Charging via USB Power Source
Plug the smaller end of the charging cord that you came with the Patriot Power Cell into the center slot of he Power Cell indicated by the arrow above.
Then plug the next end into a USB adaptor, such as the wall block shown in the picture above or a computer port. (Please note that the Power Cell does not come with the wall block pictured). You can use the adaptor that comes with your cellphone or tablet.
The unit should start charging immediately and takes about 6 hours or less to charge completely.
Charging via the Solar Panel
Charging your Power Cell using the sun can take up to 40 hours. Due to the small surface area of the built in solar panel. What I do with mine is just leave it in my window sill, solar panel up, whenever I'm not using it and the power level maintains.
You can also put the the device outside in direct sunlight. Once the rays of the sun start hitting the panel, you'll see some indicator lights.
One green light means that the Power Cell is picking up the solar rays. If you see the green light with blue lights, that means the unit is charging.
To check the charge level press the power button once, if the four lights are full then it's at 100% and ready to use.
How to Charge a Device With the Patriot Power Cell
To use the Patriot Power Cell to charge a device, you will need to use the charging cord that came with the device that you want to charge. So, if you want to charge your cell phone, you'll need to use the charging cord that came with your phone.
Plug the USB end of the charging cord into one of the USB ports indicated by the orange arrows above.
Next plug the other end into your cellphone, tablet or other USB device.
The device should start charging immediately. If not press the power button to turn on the unit.
If you want to charge another device at the same time. Simply, plug in another charging cable into the other USB port of the Power Cell and repeat the process.
How to Store the Patriot Power Cell
To get the best out of the Patriot Power Cell and ensure that you get the longest life. Here are some tips to ensure that your unit will be working at it's best and last for a long time.
Don't expose the unit to extreme temperatures. That means no extreme heat or cold. Store the unit in temperatures between 14°F and 122°F
If you need to use the Power Cell in temperatures colder than 14°F, try to insulate it by using it in your pocket.
Final Words
The Power Cell is durable, dependable and affordable. I've had mine now for over a year and have also bought others as gifts for family. Apart from the long solar charging time, there isn't really a lot for me to complain about. You can also feel free to check out these Patriot Power Cell reviews from other customers of 4Patriots. If you're in the market for a good solar charger, then the Power Cell is a great option.